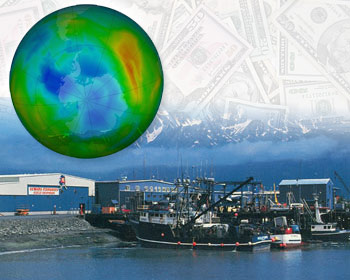 The firm promised to solve the issues caused by a refrigerant that damages the ozone layer. (Photo: ozonewatch.gsfc.nasa.gov/Stock File/FIS)
Icicle Seafoods pays USD 430,000 over refrigerant leaks

(UNITED STATES, 8/14/2012)
Seattle-based Icicle Seafoods Inc said it would resolve violations of the federal Clean Air Act resulting from leaks of an ozone-depleting refrigerant on its seafood vessels and in processing facilities, according to a consent decree lodged by the US Department of Justice on behalf of the US Environmental Protection Agency (EPA). The company has agreed to fix the leaks in its boats and facilities, make repairs at a lower leak rate and pay a USD 430,000 penalty.

Icicle was involved in the improper release and management of the ozone-depleting refrigerant R-22.

"There is a clear link between the deterioration of the ozone layer and the release of certain substances used for refrigeration," said Ed Kowalski, Director of the Office of Compliance and Enforcement at EPA's Seattle office. "Companies using these chemicals in the course of business must do so responsibly by repairing leaks and preventing releases into the atmosphere."

The consent decree, which includes Icicle Seafoods Inc and several of its subsidiaries, was lodged in the US District Court for the Western District of Washington in Seattle.

According to the settlement, Icicle had a series of Clean Air Act violations between 2006-8 associated with R-22, including:
Failure to repair refrigerant leaks promptly;
Failure to ensure adequate repairs to refrigeration appliances before resuming operation;
Failure to possess a certified refrigerant recovery device for use when performing service on refrigeration appliances;
Inadequate records of repair service on refrigeration appliances.

R-22 is one of a set of refrigerants being phased out by 2020 due to their high ozone depletion potential under the Montreal Protocol on Substances that Deplete the Ozone Layer, and stratospheric ozone depletion may cause ultraviolet radiation that puts marine phytoplankton under stress.

Icicle Seafoods harvests and processes salmon, crab, pollock, halibut, Pacific cod, black cod and fish roe.

This is the second major case the EPA has settled against a Seattle-based seafood processor in 2012. In June, the agency announced a consent decree with American Seafoods Company and Pacific Longline Company, subsidiaries of leading US seafood harvester American Seafoods Group. That case involved a penalty of USD 700,000 because the company had illegally imported some 70,000 kg of R-22, the EPA said.
By Natalia Real
[email protected]
www.seafood.media
Information of the company:
Address:
4019 21st Ave W
City:
Seattle
State/ZIP:
Washington (98199-1299)
Country:
United States
Phone:
+1 206 282 0988
Fax:
+1 206 282 7222
E-Mail:

[email protected]

More about:
Approval / Accreditation / Certified / Oversight by...