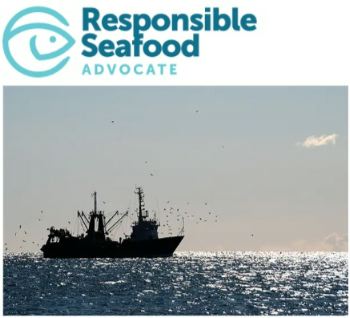 Image: Responsible Seafood Advocate
Report: Ocean warming may intensify IUU fishing and threaten global security

WORLDWIDE
Monday, March 20, 2023, 09:00 (GMT + 9)
The following is an excerpt from an article published by the Responsible Seafood Advocate:
IUU fishing activity has the potential to 'evolve significantly' with ocean warming
A new report is warning that ocean warming caused by climate change has the potential to intensify illegal, unreported and unregulated fishing (IUU) fishing and threaten global security.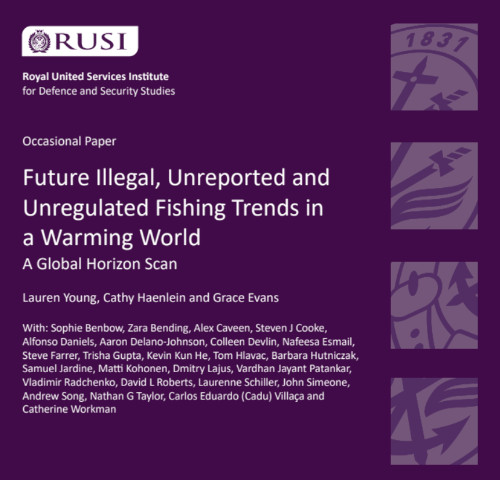 The report, which was released by the leading defense and security think tank Royal United Services Institute (RUSI), offers a comprehensive global horizon scan that explores the impacts of climate change on IUU fishing over the next decade and beyond. The report concludes that there is potential for IUU fishing activity to "evolve significantly" in a warming world, with current patterns of operation already shifting as a result of climate change.
"Climate change has the potential to gradually alter interactions between humans and the aquatic environment," wrote the report's authors. "Fish is a key source of protein in human diets and shifts in sea temperature, salinity, weather systems and sea level have the potential to alter not only current patterns of distribution but also human patterns of (legal and illegal) fishing, processing and consumption."
As fish populations and distributions shift in a warming climate, IUU fishing actors may be forced to adapt, altering their way of working. Moreover, where livelihoods and food security are affected by climate change, fishers engaging in legitimate practices may be driven into IUU activity.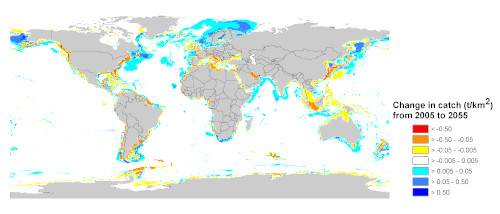 The difference in absolute catch potential (t∙km 2 ) between 2005 and 2055 under one of the climate change scenarios. Source: seaaroundus.org
The effects of climate change on fish stocks could affect yields and fishing-dependent livelihoods while rising temperatures and sea levels could affect human migration to and from coastal areas, the viability of fisheries infrastructure and the nature of IUU fishing dynamics. (continues...)
Source: Responsible Seafood Advocate | Read the full article by clicking the link here.
[email protected]
www.seafood.media