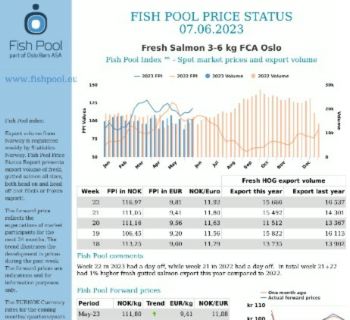 Fish Pool Price Status Report presents export volume of fresh, gutted salmon all sizes, both head on and head off (not fillets or frozen export
Fish Pool Salmon Price Status Report for week 23

NORWAY
Wednesday, June 07, 2023, 14:00 (GMT + 9)
Week 22 in 2023 had a day off, while week 21 in 2022 had a day off. In total week 21+22 had 1% higher fresh gutted salmon export this year compared to 2022, reports Fish Pool ASA.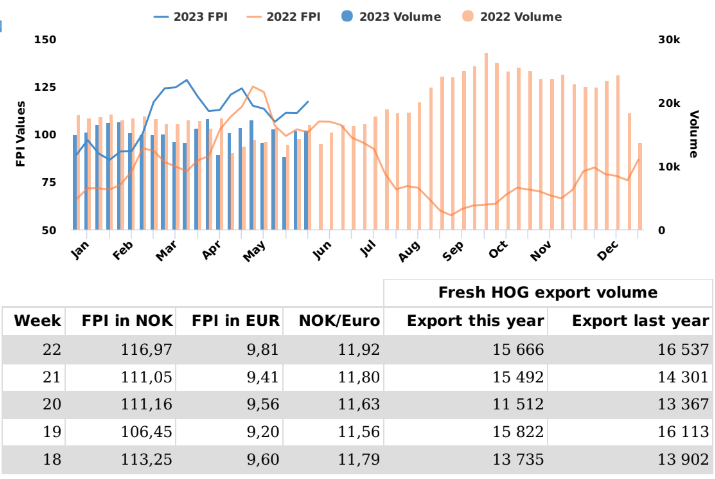 Fish Pool forward prices

The forward prices reflect the expectations of Fish Pool members for the next 24 months. The prices are evaluated by the contracts that have been entered into, and by the interest to buy or sell in Fish Pool, and are only indicative.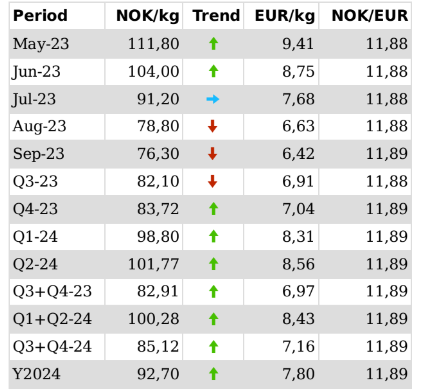 Fish Pool comments
Aug-Nov-23 traded at 78,75 NOK/kg, total 1.320 tons,

Buyer now at 78,50 against seller 79,00.

Aug-Dec-23 traded at 81,25 NOK/kg in total 1.000 tons, seller now at 81,25.

Q3+Q4-23 seller at 83,00,

Y-2024 buyer at 92,00 NOK/kg