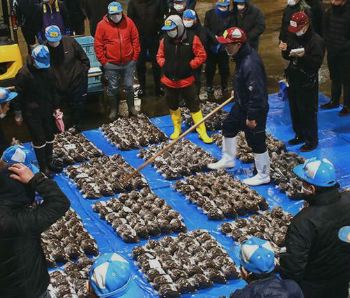 Nagaramo auction at Himi market
The first auction celebrated side by side with the bagged Nagaramo

JAPAN
Monday, January 17, 2022, 05:30 (GMT + 9)
Nagaramo harvested approximately 1 km offshore from the Ozakai fishing port and brought to the fishing port dock

The harvest season for the winter flavor "Nagaramo", which is a seaweed that grows naturally along the coast of Himi City and is used for pickled foods and ingredients for miso soup, began on the 14th. Himi Fisheries Cooperative confirms the growth situation every year and sets the handling period in the market, and on the 15th, the first auction will be held at the Himi fish market in the city.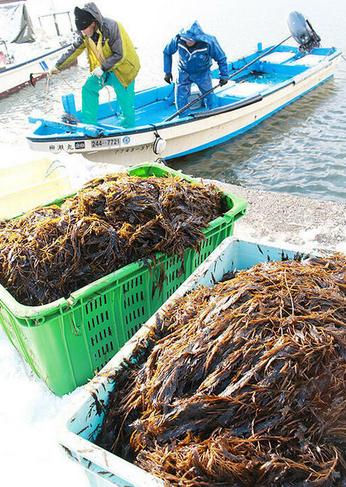 Nagaramo is another name for Akamoku from the Sargassum family. According to the Himi Fisheries Cooperative, about 30 people are involved in Nagaramo fishing in the city, and on that day, three people, including Masanobu Yanase, set out in two boats from the Ozakai fishing port to a kelp bed about 1 km away of the coast cut it with a stick with a sickle.

Mr. Yanase said, "The growing conditions and quality are the same as usual, and it is fair. It is sticky and delicious when made into food with vinegar."

In addition to being sold in supermarkets and fishmongers mainly in the city, some 15 guesthouses and restaurants in the city will offer "Umi Toromeshi", which is cut and sprinkled with rice, as a limited winter menu.

Since 2014, the fishing cooperative has committed to shipping within 30 bags (500 grams per bag) per person per day from 2014, harvesting only the tip of the cob and leaving three quarters in the sea.
[email protected]
www.seafood.media