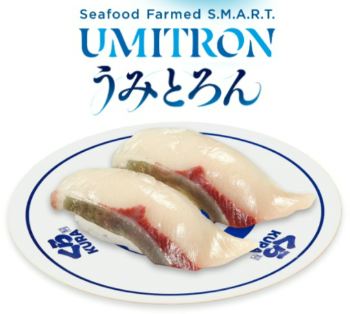 Image: Umitron/KuraSushi
Collaboration project between Umitron and Kura Sushi, successfully cultivated young yellowtail using an AI smart feeder (video)

JAPAN
Thursday, December 01, 2022, 22:00 (GMT + 9)
Limited sale at Kura Sushi nationwide as "Tokudaidori AI Hamachi".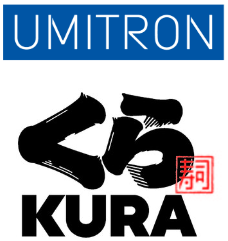 Umitron Co., Ltd. (located in Shinagawa-ku, Tokyo, CEO: Ken Fujiwara, hereinafter referred to as Umitron) established, in collaboration with Kurazushi Co., Ltd. (Chairman: Kunihiko Tanaka, located in Osaka Prefecture), a company called "KURA Fish Farm Co., Ltd." (President: Makoto Tanaka, Location: Kaizuka City, Osaka Prefecture), uses an intelligent feeding machine "UMITRON CELL" with AI and IoT technology. )" to support the aquaculture business. Its goal is to carry out intelligent aquaculture of yellowtail (Japanese 'Hamachi', amberjack or buri) using AI and IoT technology to improve labor shortage and working environment, which are problems in the aquaculture industry, and to stabilize fish supply. This hamachi will be sold as "Tokudai-dori AI Hamachi" at nationwide stores of the conveyor belt sushi chain "Kura Sushi".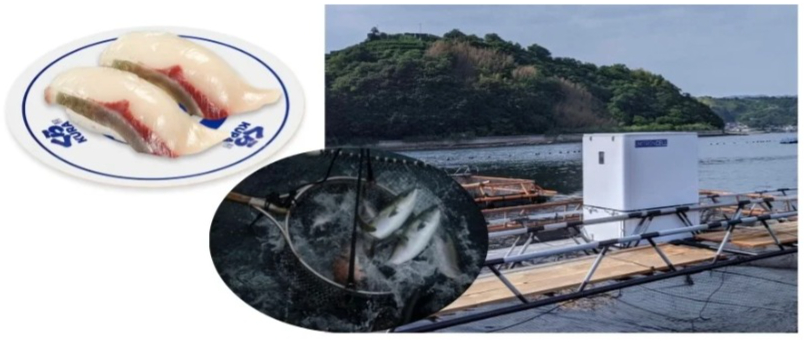 Because yellowtail eats a large amount of food at once, in order to feed them the amount necessary for growth without waste, a large amount of food is put into the cage from the boat in a short time at a time, and people visually check their appetite. Confirming feeding methods were common.
It was demostrated that even after switching to the smart feeder, the fish grew as before, and by feeding according to the fish's appetite analyzed by AI, the amount of feed was reduced by about 10% compared to the conventional one. In addition, by switching to remote control instead of going back and forth to the fish tank every day for feeding, the frequency has been reduced to once every 2-3 days. It also helps reduce labor and fuel costs.
KURA Fish Farm's "contract aquaculture" business aims to alleviate the serious labor shortage and harsh working environment in the fisheries industry through the use of technology. "Smart Farming" is upheld. Kura Sushi has been engaged in consignment farming, but the major difference is that it provides producers with a "smart feeder" that uses AI and juvenile fish. AI-based feeding is expected to reduce the burden of labor and the amount of food used. The juvenile fish is prepared by KURA Fish Farm, which reduces the risk for producers when farmed fish are wiped out due to red tide.
The smart feeder "UMITRON CELL" utilizes AI and IoT technologies developed by the company in collaboration with UMITRON, which develops and provides data platform services for aquaculture businesses. With a smartphone app, you can set the timing and amount of food wherever you are. Since it is possible to save up to three days worth of food, it is possible to greatly reduce the burden of feeding, which is said to be the most time-consuming and difficult in the aquaculture business.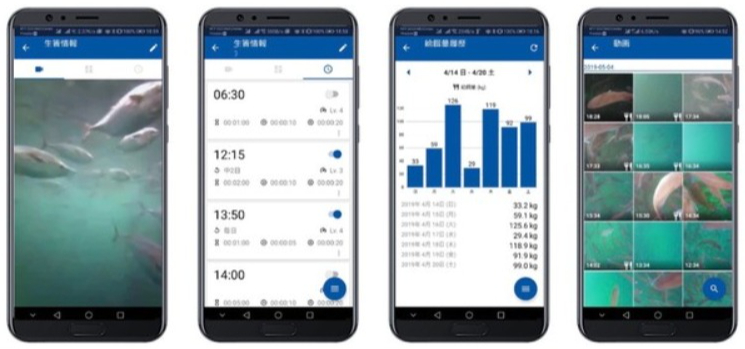 Until now, there have been feeders that automatically feed on a timer, but the Umitron Cell judges the bite of the fish and reduces the amount of food when it eats little, and gives more when it eats a lot. Therefore, efficient feeding is possible. Since only the necessary amount is put in at the right time, it can be expected to increase the growth speed and reduce the loss of food. By reducing the amount of uneaten and wasted food, it will lead to cost reductions for producers and keep the ocean clean.
Rikio Nakata, CEO of Nakata Suisan (Uwajima, Ehime Prefecture), which KURA Fish Farm has already commissioned to farm sea bream, said, It accounts for nearly 70%." "(The smart feeder) drops food without waste, so I think we are not wasting nearly 10% (the cost of feeding) compared to feeding ourselves." he say.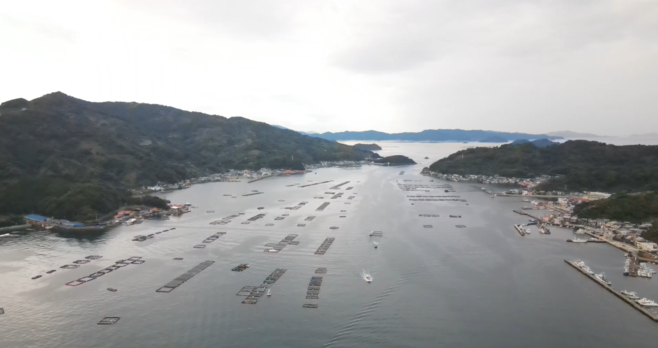 Ehime and Uwajima, contracted aquaculture sites.(Umitron/KuraSushi)
"The labor has become so much easier. If all of the rafts were equipped with this system, I think we would be able to keep twice or even three times as many fish as we are now. " If that happens, (fishery) will gradually change into an easy and attractive business, and if I say it at home, my son will come back to management, and young people will come back, and I think that the lack of successors will be resolved. I will," he said.
On the other hand, in the "in-house farming" business, Umitron is proceeding with the production of "Organic Hamachi", the first certified organic marine product in Japan that meets international standards, in Wakayama Prefecture. there is Became an associate member of the Kishu-Hidaka Fisheries Cooperative Association and acquired fishing rights. Kura Sushi stores are expected to release 2 pieces for 200 yen in December. In addition, as Kura Sushi's first wholesale sale, it will be sold at some supermarkets. With an eye to exporting the fish overseas, the company is also considering producing other fish species.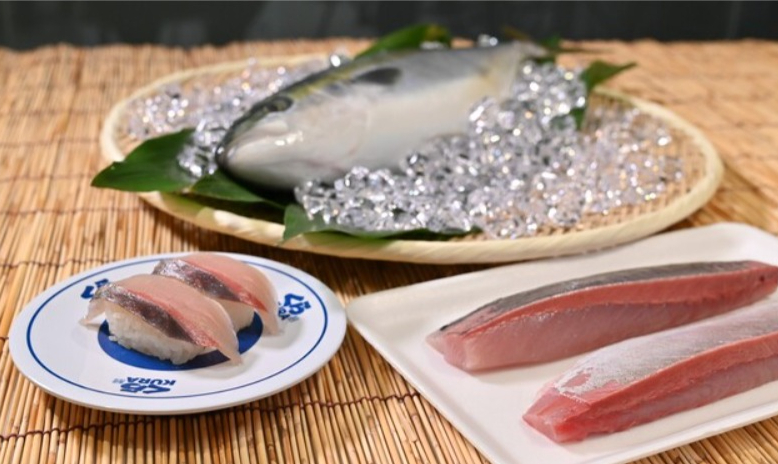 Organic Hamachi" store offer / wholesale sales image (Umitron/KuraSushi)
Based on the results of this demonstration, Umitron and KURA Fish Farm have signed a contract to introduce the smart feeding machine "UMITRON CELL" to two aquaculture companies in Uwajima City, Ehime Prefecture, and will start full-scale outsourced aquaculture using AI and IoT. In the future, Umitron will continue to accumulate data on yellowtail feeding and growth, improve the accuracy of AI and automate it, aiming to further improve the production efficiency of yellowtail, save labor, and provide a stable supply in cooperation with KURA Fish Farm.
KURA Fish Farm will purchase all of the farmed young yellowtail and will continue to sell it at Kura Sushi. In addition, by 2024, Kura Sushi plans to supply about 30% of the yellowtail it handles through outsourced aquaculture at KURA Fish Farm.
[email protected]
www.seafood.media