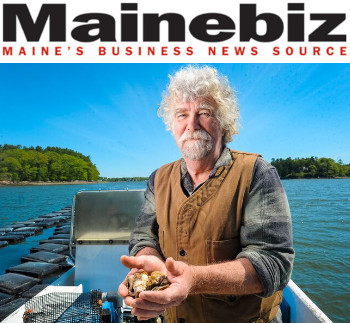 Image: Mainebiz / FIS
Oysters: The Story of the Pemaquid Oyster Co.

UNITED STATES
Tuesday, May 30, 2023, 07:00 (GMT + 9)
The following is an excerpt from an article published by Mainebiz:
This world is your oyster: A robust oyster farming industry thrives — despite hard work and nature's wily ways
In 1986, Pemaquid Oyster Co. in Bristol was one of only a few oyster farms in Maine.

Photos: Pemaquid Oyster Co.
"One of my friends said it was like belonging to a country club but, instead of going golfing on a Saturday, we'd mess around on the river," says Smokey McKeen, who started the farm with fellow aquaculture enthusiasts Chris Davis and Carter Newell.
"At some point we had to treat it more like a business," he continues. "It's been fun to see the industry grow."
From just a few operations 40 years ago to about 150 oyster farms today, the industry has grown indeed. Farms extend from York to Washington counties and raise millions of oysters per year for the white tablecloth market, according to the Maine Aquaculture Innovation Center.
Not for the faint of heart
Today, millions of oysters are produced yearly; most farms have a handful of employees, bigger ones employ a couple of dozen. Most oysters go outside Maine. Traditional markets include New York, Toronto, Chicago and Atlanta. Maine is well situated for distribution, being a 24-hour truck ride from 150 million consumers, notes Dana Morse, the aquaculture lead for Maine Sea Grant and University of Maine Cooperative Extension, based at the Darling Marine Center in Walpole.
People participate in the industry from the hobby scale to a full-time career. "But it is farming – it's risky, it's uncertain, it's really hard work, it's difficult on your body," Morse says. "And nature definitely has a very big say as to what's going to happen or not going to happen."
He adds, "It's not necessarily for the faint of heart."
Attributes that make Maine great for the industry include varied coastal systems – with attributes such as optimal water temperature and enough food – that suit the animal's biological requirements, says Morse.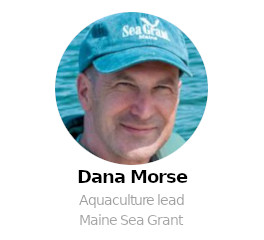 Maine's regulatory environment is conducive to allowing entrants at different scales.
"We have a system that is fairly robust," he says. "It seems to be viewed as relatively fairly balanced between opportunities for business and the responsibility for conserving and using public spaces."
Maine's training programs, such as the University of Maine's Aquaculture in Shared Waters program now in its 10th year, have helped grow the industry.
"The market has been very strong," Morse says. "Pretty much every grower can sell what they can grow at a pretty reasonable price and, in some cases, very good prices."
Early pioneer
An earlier wave of farms grew European oysters in the midcoast in the late 1970s. Factors such as disease and susceptibility to Maine's cold winters prevented the species from taking off.
In the mid-1980s, McKeen and other farmers experimented with growing American oysters on the Damariscotta River. The river's clean, salty and nutrient-rich water was ideal. And it was home to the University of Maine's Darling Marine Center, which was instrumental in establishing shellfish aquaculture thanks to a research program, established by a resident researcher, Herb Hidu.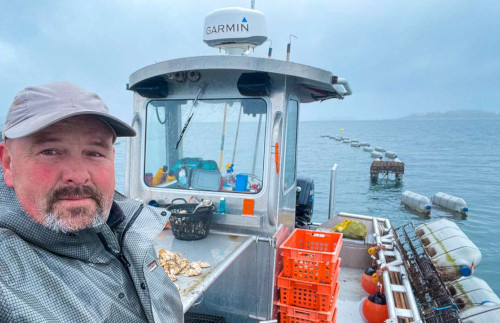 Photo: Mainebiz
Hidu encouraged would-be farmers to try American oysters, native to the region. There were no textbooks on how to do it. "We were building our own gear," recalls McKeen. "We'd meet on the weekends and mess around on the river."
McKeen and his partners settled on a technique to grow oyster seeds in cages floating on the surface, then broadcasting them on the bottom when they reached a certain size. After a year, they'd drag up a marketable crop. [Continues...]
Author: Laurie Schreiber | Mainebiz | Read the full article by clicking the link here
[email protected]
www.seafood.media