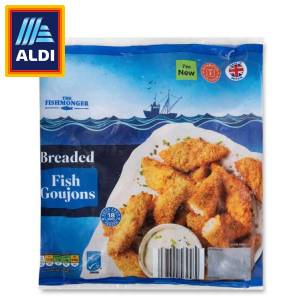 Aldi's wild caught fish is sourced from low-risk areas or those working towards achieving MSC certification.
Aldi and the MSC Give Insight into How you Can Enjoy Seafood Sustainably

(UNITED KINGDOM, 9/11/2023)
This Sustainable Seafood September, Aldi has partnered with the Marine Stewardship Council (MSC) to help shoppers enjoy seafood while also remaining conscious of the environment.
The below tips have been curated by Liz Fox, Corporate Responsibility Director for Aldi UK, and experts from the MSC to help shoppers do just that.
From trying alternative species and products, to myth busting the frozen versus fresh debate, here are several ways to buy sustainable seafood.
Something blue
It seems an obvious place to start, but seafood products that display the blue Marine Stewardship Council, or MSC, ecolabel have been certified against the highest sustainability standards.
It is a label present throughout the aisles of Aldi, and helped the supermarket sell the largest volume of certified sustainable seafood in UK supermarkets in 2022.
Founded in 1997, the MSC's blue ecolabel scheme covers more than 1,500 products throughout the UK, with dozens of products on shelves in Aldi having the highest sustainability rating.
Aldi is committed to the sustainability of the world's oceans and environment by ensuring that all of the fish and seafood used in itsown-label products are responsibly sourced.
Get creative with cans
Canned fish is having a real moment in the spotlight.
Everyone from TikTok creators to serious foodies have been extolling the charms of this easy fish supper. If you know which cans to buy and what to do with them, you can create delicious, satisfying low-cost meals.
People are often surprised by how delicious canned fish can be, and at Aldi you can find a wide variety of products including canned salmon and tuna with the blue MSC ecolabel.
Aldi's policy is to continue to promote responsible fish sourcing in its products while continuing to strive for further improvements in fishery practices and certification.
3- Don't fear frozen
The frozen versus fresh debate is still a hot topic among seafood lovers. The rumour that fish loses its taste, freshness and nutrients when frozen isn't true at all!
Eating frozen MSC certified fish is one of the best ways to eat seafood sustainably. It dramatically cuts household food waste and is a great way to bulk buy and maximise your mealtime ingredients – Aldi has hundreds of recipes to help shoppers create mouthwatering meals.
Most fish is frozen as soon as it is caught, quickly preserving all its flavour and nutritional goodness for you to enjoy once cooked and paired with whatever you are in the mood for.
Aldi provide's clear and transparent information for its customers by labelling 100% of its seafood products.
4- Switch up your species
Are you crazy for cod or a stickler for salmon?
In the UK, the most popular fish species among seafood eaters are known as the big five: cod, haddock, tuna, salmon and prawns.
While you can buy many of these species at a relatively good price, and with the blue MSC ecolabel, there are lots of other lesser-known alternatives that may be cheaper, just as sustainable and equally as tasty.
Pollock is a good example of a great whitefish alternative, which is in the same family as cod. It can be found in Aldi stores, with products including The Fishmonger Fish Fillet Burgers and The Fishmonger Breaded Fish Fillets.
By choosing the MSC ecolabel on products you can trust it comes from a well-managed, sustainable fishery, meaning you can enjoy healthy, nutritious seafood while helping to preserve our oceans.
5- Get shellfish savvy
Shellfish is simple to cook, can have a low ocean impact (if MSC certified), and can be found at affordable prices in many UK supermarkets, proving it's not just reserved for fancy restaurants or seaside establishments.
Mussels, for example, are a brilliant sustainable choice. They have a lower carbon footprint compared with other protein sources because they need very little to thrive, feeding off organic particles found in the ocean. As filter feeders, mussels can also create a cleaner, healthier environment for other aquatic species.
If you want to bring the fresh taste of the ocean home, then look out for some of the best low-cost shellfish available with the blue MSC ecolabel including Scottish mussels from Aldi stores.

When you see the blue MSC ecolabel, you can be sure that the seafood you're buying is sustainable.
About Aldi
Aldi is the UK's fourth largest supermarket, with over 990 stores across the UK and about to open its 1000th store in 2023. Between 2012 and 2019, Aldi's UK operations became "carbon neutral", with investments in solar, green energy, energy efficiency and offsets reducing greenhouse gas emissions by 53 per cent per square meter of sales floor.
Source: Aldi UK
Information of the company:
Address:
Holly Lane
City:
Atherstone
State/ZIP:
Warwickshire (CV9 2SQ)
Country:
United Kingdom
Phone:
+44 844 406 8800
Fax:
+44 1827 710 899
E-Mail:

[email protected]

More about: