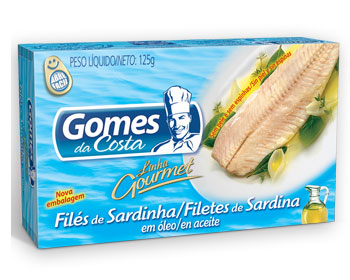 Gomes da Costa canned sardines. (Photo: Gomes da Costa)
With tilapia, Gomes da Costa seeks to diversify its canned products

(BRAZIL, 10/2/2013)
Gomes da Costa seeks to expand its traditional offer of canned tuna and sardines and begin selling canned tilapia.
This Brazilian company that is the leader in the production and marketing of canned fish, acquired in 2004 by the Spanish group Calvo, which so far this year has sold canned products for BRL 1,000 million (USD 446 million).
While the company has been interested in diversifying its products for seven years, only in the last three years research began to expand product offerings.
So far, Gomes da Costa has focused only on capture fisheries and while it specializes in sardines, tuna is another important part of the business, stated the industrial director, Adão Pereira de Sá.
"When performing an analysis, we can see the opportunities that can be generated by farming fish for canning," the entrepreneur added.
He also stressed that from the point of view of sustainability raising fish in tanks strengthens the green project idea in the production chain of the firm.
"In this case, we are going to work with canned tilapia, also using fish meat to make burgers and nuggets," the executive told DCI.
According to Pereira de Sá, the company has already developed eight flavours but in the first stage only four flavours will be tasted by several consumers: natural tilapia, tilapia in soybean oil, in tomato sauce and with capers.
The tests were conducted in late 2013 in San Pablo, as the company was delayed with certain requirements and legal restrictions.
This market study will help the company to make the final decision.
"Tilapia farming is highly developed in Brazil, mainly in the state of Parana. Therefore, we have already studied the production capacity in some towns such as Assis Chateaubriand, Maripa and Toledo," said Pereira de Sá.
According to Ministry of Fisheries and Aquaculture (MPA) statistics, Assis Chateaubriand produced 3,600 tonnes of tilapia in 2012, Maripa registered an output of 2,500 tonnes and Toledo produced 2,200 tonnes.
To make the business profitable, Gomes da Costa calculates that production should reach about 10,000 tonnes.
"The talks with Toledo prefecture are advanced but it would be early to say that the construction of the new platform will take place soon. We are going to wait for the test phase so that then we can progress. Tax incentives will also be influential," he concluded.
By Analia Murias
[email protected]
www.seafood.media

Information of the company:
Address:
Rua São Tomé, 86 - 9º andar Edificio Vila Olímpia Corporate
City:
São Paulo
State/ZIP:
São Paulo (04551-080)
Country:
Brazil
Phone:
+55 11 5503 6800
Fax:
+55 11 5503 6804
E-Mail:

[email protected]

More about: