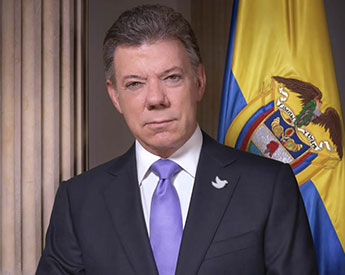 President of Colombia, Juan Manuel Santos Calderón. (Photo: Presidencia de la Republica de Colombia)
OECD approves entry of Colombia to Fisheries Committee

(COLOMBIA, 4/19/2016)
The member countries of the Organisation for Economic Co-operation and Development (OECD) gave free rein to Colombia for it to join the Fisheries Committee of this international organization, after the Ministry of Agriculture and Rural Development presented the progress around this productive chain.
With the new adhesion to the OECD on issues of fisheries and aquaculture, Colombia will be able to work together more smoothly with these 34 member countries and other 100 nations that contribute to the global entity, sharing experiences and creating real solutions to promote economic, social and environmental changes as to the livestock line in question.
"Getting closer to joining the OECD. With the approval of the Fisheries and Agriculture Committee we have approval to 16 of 23 committees to become a full member," said President Juan Manuel Santos.
The representation of the Colombian agricultural portfolio was headed by Deputy Minister of Agricultural Affairs, Juan Pablo Pineda.
The officer shared with the representatives of OECD member countries present the instruments and public policies of the national Government to improve productivity in the fisheries sector, increase their competitiveness through job creation, strengthen the quality of products, ensure domestic consumption and access to new markets as part of a comprehensive development and built from the territory.
After the presentation, the international body privately endorsed the 2014-2018 Institutional Strategic Plan that the national Government has been implementing through the actions of the Ministry of Agriculture, and that prioritizes fisheries issues; the development of knowledge; surveillance and monitoring activities; and the updating and implementation of management measures.
In the favourable verdict for Colombia the discipline of the Ministry of Agriculture was highlighted as to the compliance with the recommendations made by the OECD in its previous visit, and that would have enabled the country to strengthen the contribution of fisheries and aquaculture to sustainable and inclusive growth.
From the date, the Ministry of Agriculture will have to report to the international organization on sector statistics demonstrating the growth that has been proposed by Colombia in the production of fisheries and aquaculture, which in the last record approached 135,000 tonnes, and which is expected to increase by 13 per cent by 2018, as part of the National Development Plan and rural policy Colombia Siembra.

[email protected]
www.seafood.media
Information of the company:
Address:
2, rue André Pascal, Cedex 16
City:
Paris
State/ZIP:
(75775)
Country:
France
Phone:
+33 1 4524 8200
Fax:
+33 1 4524 8500
E-Mail:

[email protected]

More about: