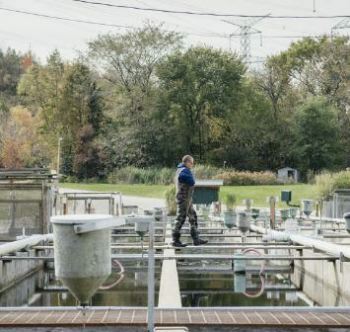 A worker at Cedar Crest Trout Farm in Ontario, Canada, tends to the company's farm. Photo courtesy of Wittaya Aqua
Technology allowing aquaculture to do social distancing

(CANADA, 5/21/2020)
Algorithm makers and data scientists rally solutions for farmers, even when they're not able to be near the farm
As the coronavirus pandemic continues to disrupt, can technology and artificial intelligence (AI) help aquaculture find the way forward?
Market disruption, reduced or suspended production and declining seafood demand are among the many impacts on aquaculture as COVID-19 carries on. Innovative companies, many of them still bearing the "startup" label, are offering support with a host of initiatives.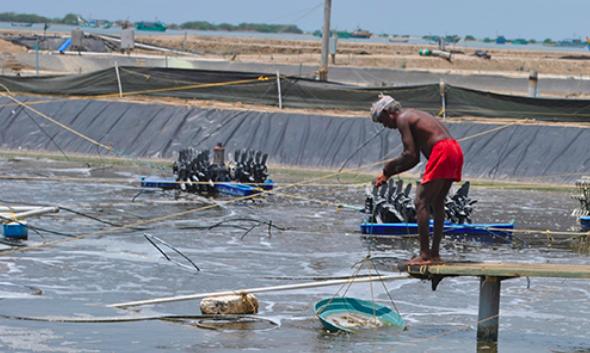 Artificial intelligence for Aquaculture | Enabling data driven farming in Indian Shrimp Eco-system and connecting shrimp farmers with upstream and downstream players of the industry.(Photo: Aquaconnect)
In India, full-stack aquaculture technology startup Aquaconnect has launched a COVID-19 helpline for shrimp farmers. The company is providing remote support on farm management and helping farmers navigate supply, demand and logistics. It's also joining forces with processors and exporters to put farmers in touch with those who are still buying shrimp.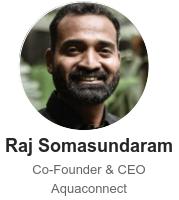 "We're aiming to provide complete assistance and information to farmers during this pandemic. We believe that our collaborative effort with other industry stakeholders will help them mitigate the challenges from the country-wide COVID-19 lockdown," Aquaconnect CEO Rajamanohar Somasundaram told The Advocate.
With many restaurants closed or with fewer customers practicing social distancing according to applicable health guidelines, sales in Japan are declining. Because seafood products are often more expensive, customers are cutting back discretionary spending or purchasing more non-perishable foods.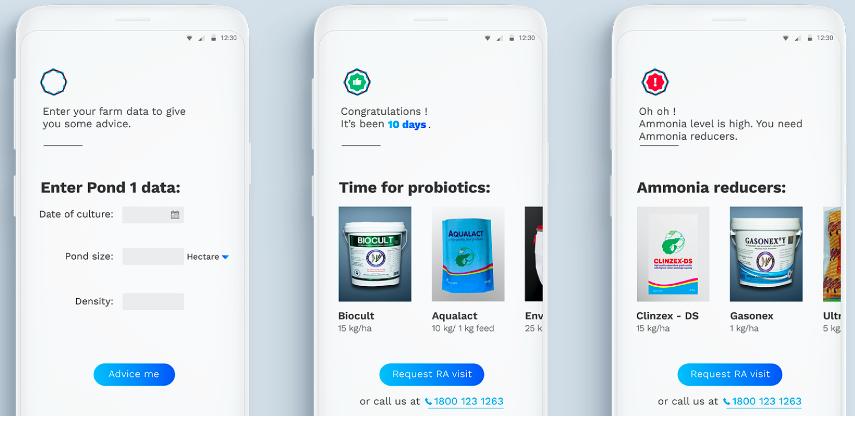 FarmMOJO for Feed Producers | FarmMOJO's artificial intelligence help feed producers in many ways to increase their market share. The AI driven decision support dashboard can help you with Farmer relationship management and potential sales discovery in real-time. (Photo: Aquaconnect)
In light of this, aquaculture technology provider Umitron is helping fish farmers in Japan adjust to new market conditions. A crowdfunding campaign with Akasaka Fisheries, a red sea bream farmer, is connecting consumers directly with farmers to raise awareness about sustainable farming methods. When Japan lifts its state of emergency, customers will be able to visit restaurants serving Akasaka Fisheries products, watch videos and obtain information on the fish they're eating. This will offer some relief to participating farmers and restaurants, said Andy Davison, product manager at Umitron.

Mobile phone apps keep aquaculture workers connected to their operations, even if they can't be physically at the farm. Photo courtesy of Umitron
"We want to share farmers' stories and open customers' eyes to the hard work and dedication that goes into growing high-quality seafood. Making customers aware of farmers' struggles is the first step in generating more help," he said.
As more farmers stay at home to comply with social distancing regulations, Umitron's automated smart feeder CELL is proving advantageous. The device collects data to optimize feeding and is remotely managed through a cloud-based application on a mobile device. This allows farmers to feed and monitor their fish without being on their farm. Remote access to data, forecasting and integration with data logging hardware and automatic feeding systems are likely to go a long way to help reduce farm dependency on human labor.(continue...)
Author: Bonnie Waycott / Global Aquaculture Advocate | Read full story here
[email protected]
www.seafood.media
Information of the company:
Address:
Type II/17, Phase 1, Dr.VSI Estate, Phase 1, Vikram Sarabhai Instronics Estate, Thiruvanmiyur,
City:
Chennai,
State/ZIP:
Tamil Nadu (60004)
Country:
India
Phone:
+91 1800 123 1263
E-Mail:

[email protected]

More about: