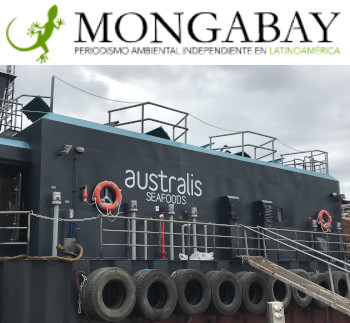 Image: Mongabay / FIS
Australis Mar scandal in Chile: what environmental damage does producing 80,000 tons of salmon more than authorized?

(CHILE, 4/11/2023)
The following is an excerpt from an article published by Mongabay: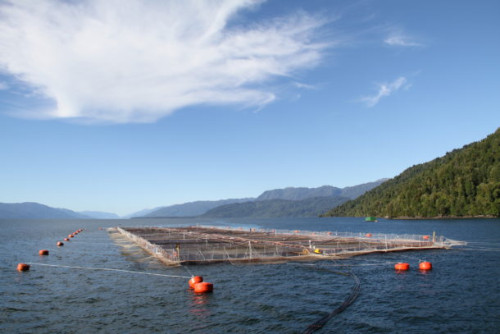 Salmon farming center. File Photo: WWF Chile – Denisse Mardones. / Mongabay
Although there are no details of what the environmental impacts produced by Australis Mar have been, due to the overproduction of salmon, experts agree that production above the norm increases the risk of running out of oxygen in the water.
The risk of salmon escaping into the wild is also increasing, as is the use of antibiotics. All this, they say, can have serious impacts on ecosystems, especially in marine protected areas.
In Chile, a new scandal in the salmon industry is attracting the attention of the media, civil society organizations and authorities. This time, the protagonist is the company Australis Mar —the fifth largest in the sector in Chile— which sued itself before the Superintendence of the Environment for producing 80,000 tons of salmon more than what was authorized.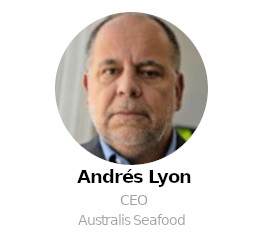 As the company explained in a statement, it all began when at the end of July 2019, the Chilean businessman Isidoro Quiroga and then majority owner of Australis Mar sold the salmon farm to the Chinese transnational Joyvio —which is part of Legend Holding, a company that is also owner of the technology giant Lenovo. Three years later, when the current general manager of Australis Mar, Andrés Lyon, took office, he detected "the existence of a systematic policy of overproduction of salmon devised and executed by the administration and the previous controller." According to the new owners of Australis Mar, who claim to be victims of a scam, "these are acts that have been in force since at least 2016 and that generated an overproduction of more than 80,000 tons of salmonids."
Joyvio initiated an international arbitration requesting Isidoro Quiroga to return the US$921 million he paid for the company's transaction, plus US$300 million for damages. Following the company's self-report, the Superintendence of the Environment (SMA) initiated five sanctioning proceedings against Australis Mar due to the overproduction of salmon in eight of its farms. All are located in protected areas of Patagonia: seven within the marine area of the Las Guaitecas Forest Reserve and one within the Kawésqar National Reserve.
What are the environmental impacts associated with an overproduction of salmon?
The environmental impacts of overproduction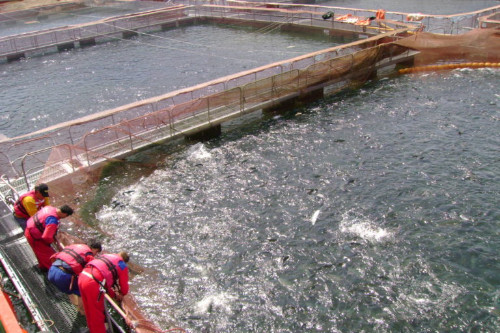 Photo: Oceana / Mongabay
For now, there are no details of the environmental impacts produced by Australis Mar due to sustained overproduction over time. However, experts consulted by Mongabay Latam agree that production above the norm increases the risk of generating "anaerobic conditions" on the seabed. That is the technical term to refer to the places in the sea where the oxygen in the water runs out and, therefore, the life of countless species ends. Experts also say that overproduction increases the risk of more salmon escaping into the wild and that greater amounts of antibiotics are applied to control diseases caused by overcrowding of fish. (continues...)
Author: Michelle Carrere | Mongabay | Read the full article by clicking the link here (only available in Spanish)
Related news: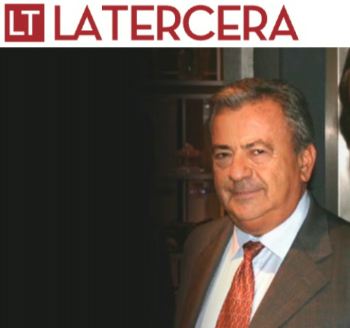 [email protected]
www.seafood.media
Information of the company:
| | |
| --- | --- |
| Country: | Chile |