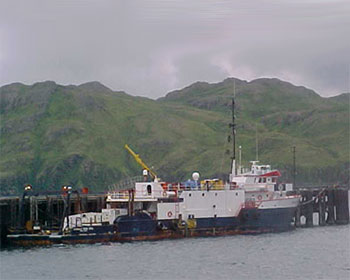 Icicle Seafoods fishing vessel at Adak. (Photo Credit: Icicle Seafoods)
Icicle Seafoods will close its plant in Adak

(UNITED STATES, 4/23/2013)
Icicle Seafoods Inc announced that it will be closing its operation in Adak within Alaska's Aleutian Islands over concerns regarding the health of Pacific cod and increased regulatory uncertainty.

"Icicle has worked incredibly hard in the two years since we took it over to make the Adak plant a viable operation," said Amy Humphreys, Icicle's new president and CEO.

She noted that the company strongly supports policies that encourage the growth and sustainability of the state's coastal communities, something which is often best achieved with a resident fishing fleet and seafood processing year-round.

"However, given the questionable outlook for the Pacific cod fishery in the area and the high costs of operating in this remote location, we have decided to focus our resources in other areas within our Alaska operations," Humphreys stated.

Last month, Seattle, Washington-based Icicle Seafoods announced that it would close the plant in Adak this coming summer and review its business plans. The facility has failed to become profitable since the company took control of its management a couple of years ago, and a fraction of the reason could be a problem the company has cited as the high cost of municipal electricity, Alaska Dispatch reports.

In recent years, Icicle Seafoods has invested heavily in other parts of Alaska, the latest example being by purchasing a second shore-based seafood processing facility in Bristol Bay, Alaska from Snopac Products to significantly fuel the firm's capacity to produce high-quality sockeye salmon fillets. The plant will also process herring, and chum and pink salmon.

"The strategic acquisition of the Wood River facility is yet another step in our growth strategy as a leading processor of salmon and other seafood products," Humphreys said.
And she added: "Icicle is well-positioned with its diversified harvesting and processing infrastructure and its broad, quality product offerings to further strengthen and build upon the founding vision put into motion almost 50 years ago: To be a superior, diversified seafood company offering premier service and commitment to our customers, fishermen, and employees."
By Natalia Real
[email protected]
www.seafood.media
Information of the company:
Address:
4019 21st Ave W
City:
Seattle
State/ZIP:
Washington (98199-1299)
Country:
United States
Phone:
+1 206 282 0988
Fax:
+1 206 282 7222
E-Mail:

[email protected]

More about:
Approval / Accreditation / Certified / Oversight by...