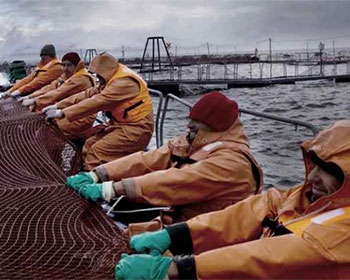 Salmon farming centre. (Photo: Australis Seafoods)
Charges made against Australis Mar for environmental breaches

(CHILE, 3/6/2015)
The Superintendency of the Environment (SMA) and the National Fisheries and Aquaculture Service (SERNAPESCA) verified the existence of multiple breaches during the inspection of farms belonging to Australis Mar SA in the Aysen region.
Specifically, the Superintendency filed charges against the company for environmental violations in salmon fattening centres Salas 5 and Rojas 2, among which those highlighted are:
Presence of waste in the water column and the coastline adjacent to one of the centres with their own waste from the activity;
Using non environmentally assessed freshwater supplies, without having rights on them;
Lack of records on sludge delivery to an authorized disposal destination;
Lack of unloading and monitoring feature records;
Lack of updated training log;
Lack of environmental audit performance;
Unauthorized use of the coastline belonging to the National Reserve Las Guaitecas;
Placing nets and handling them in an unsuitable way, not following the required procedures for the cleaning and disinfection processes. Due to this offense, an interim net withdrawal measure from the farming centre Rojas 2 was requested.
Australis has a 10-day deadline to file a compliance programme or a 15-day one to submit charges to the SMA. Once the deadline is due, the sanctioning process will continue.
A compliance programme is an action and goal plan to be submitted to the offender so that within a period specified by the SMA, the holder can meet their environmental obligations. If they do not do so, the offender risks up to twice the original fine.
Related articles:
- Environmental authority files charges against salmon company
- Caligus high proliferation detected in 31 farms
By Analia Murias
[email protected]
www.seafood.media

Information of the company:
| | |
| --- | --- |
| Country: | Chile |