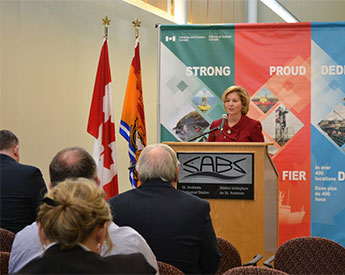 Parlamentarian Karen Ludwig on the presentation of the new clean technology program. (Photo: Fisheries and Oceans Canada)
Fishery and aquaculture clean technology to be promoted with USD 15 million

(CANADA, 12/20/2017)
The Ministry of Fisheries, Oceans and the Canadian Coast Guard launched a new program that will provide up to CAD 20 million (USD 15.5 million) over four years to help the country's fisheries and aquaculture industries, incorporating existing clean technologies into their day-to-day operations.
The announcement was released by Member of Parliament for New Brunswick Southwest Karen Ludwig, on behalf of Minister Dominic LeBlanc.
The potential projects could include helping fish harvesters convert their vessels to clean alternative fuels, and reducing energy use on aquaculture sites.
The Fisheries and Aquaculture Clean Technology Adoption Program will provide funding to help a sector made up of primarily small and medium-sized businesses adopt innovative clean technologies that otherwise may not be possible.
"Commercial fisheries and aquaculture are important contributors to the Canadian economy and have been providing jobs and income for coastal and Indigenous communities for generations. This program will accelerate the use of sustainable and more efficient tools, practices, and techniques in producing and harvesting Canadian seafood," pointed out Minister LeBlanc.
The new program is part of a commitment in Budget 2016 of over CAD 1 billion (USD 777.3 million) to support clean technology in Canada's natural resource sectors.
Ludwig stressed that helping fish harvesters and aquaculture farms adopt cleaner technology will create even more sustainable seafood for Canada's domestic and export markets.
"Many of these clean technologies are created right here in Canada, making this investment go even further in providing growth to Canada's economy," the parliamentarian concluded.

[email protected]
www.seafood.media
Information of the company:
Address:
240 Sparks Street
City:
Ottawa
State/ZIP:
Ontario (QC G5H 3Z4)
Country:
Canada
Phone:
+1 613 993 0999
Fax:
+1 613 990 1866
E-Mail:

[email protected]

More about: