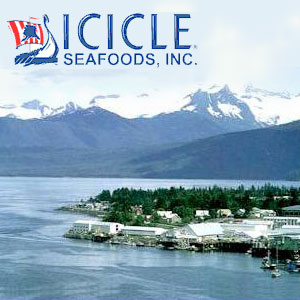 Petersburg Processing Plant where Icicle originated (Photo: Icicle Seafoods, Inc.)
Innovative Seafood Solutions

(UNITED STATES, 4/19/2011)
During the winter of 1965 a group of local fishermen and employees purchased the Pacific American Fisheries cannery in Petersburg, Alaska, with visions of building a superior seafood company. Though back then the company was incorporated as Petersburg Fisheries, Inc., it was the beginning of what would eventually become Icicle Seafoods, Inc.

Crab boats waiting to unload in the Pribilof Islands to Icicle's floating processor Arctic Star (left) and hauling a crab pot aboard (right)
Innovative seafood solutions came early in Icicle's history, with the development of year-round processing facilities; salmon canneries and cold storages working in conjunction with each other; and eventually the use of floating processors like the Arctic Star, Bering Star, Northern Victor and Robert M Thorstenson that are located near the fishing grounds.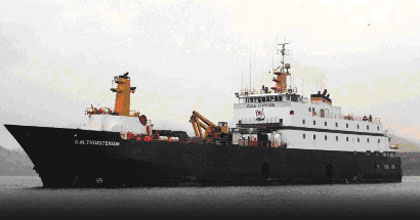 Icicle's floating salmon, herring and crab processor Robert M Thorstenson
These concepts were radical to Alaska's fishing industry in the early days, but enabled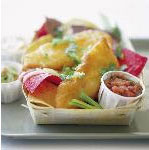 Alaska Pollock Fish & Chips (Photo: ASMI)

the company to provide stable employment, a variety of seafood products throughout the year and the opportunity to follow fishermen to remote coastal fishing locations where fish would not otherwise get harvested. The success of this program led to the development of additional shore side facilities in Seward, Egegik, Larsen Bay and most recently Adak, with support sites in Anchorage, Homer, Dillingham, Naknek, and Dutch Harbor. Along the way Icicle purchased tenders, crabbers, trawlers, floating processors and various other support vessels to help provide fishermen with better markets and structure a larger base from which the company could expand its operations and diversify its product mix.
Fresh Grilled Wild Alaska Salmon

Examples of the quest for product diversification and integral pieces of the company's growth and success include the purchase in 1999 of the Pollock and Cod processor Northern Victor and its five combination trawlers (now seven); the building of a surimi seafood processing facility in Bellingham, Washington that put the company in the value-added seafood analog product business (since sold); the establishment of the Astoria, Oregon canned salmon labeling and warehousing operation in conjunction with Peter Pan Seafoods that allows Icicle to better follow product from the ocean to the customer; the opening of the first full time multi-product sales office in Japan by an Alaskan fish company; the establishment of an international in-house trading division; and the recent long term lease of a multi species processing plant at the end of the Aleutian Chain.

To further diversify, in 2007 the company bought a half interest in a farmed salmon operation in Chile (Salmones Aysen SA) and in 2008 acquired a farmed salmon operation (American Gold Seafoods) in Puget Sound that has four farm sites and two hatcheries. These acquisitions provide Icicle's customers the opportunity to source all their wild and farmed salmon from one company.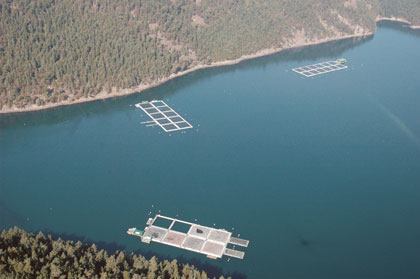 Icicle's American Gold Seafoods salmon farm at Cypress Island in Puget Sound, one hour from Seattle
Operationally, Icicle's fishing fleets are managed from distinct regions, with resident fleet managers based in Southeast Alaska (Petersburg); Central Alaska (Homer) and Western Alaska (Egegik & Dutch Harbor).
While Icicle continues to seek new ways to improve and supplement the products and services it offers, the company never loses sight of what makes it viable:
• The commitment to offer fishermen the best possible locations and programs to sell their fish
• The commitment to offer its employees stable jobs and rewarding careers
• The commitment to provide the highest quality seafood and service to customers
About Icicle Seafoods, Inc.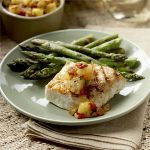 Alaska Wild Halibut Fillet

Since 1965 when Bob Thorstenson started what would eventually become Icicle Seafoods, Inc., fishermen have been an integral part of the company's success. As Icicle grew from its roots in Petersburg, it was fishermen who drove the company's expansion into virtually every fishing area in Alaska.

Today, the company buys nearly every species of Alaska seafood from Southeast Alaska to Norton Sound and from Cook Inlet to Adak.

Source: Icicle Seafoods, Inc.

Related Article

Margaret E.L. Stacey
Editor Companies and Products
[email protected]
www.seafood.media


Information of the company:
Address:
4019 21st Ave W
City:
Seattle
State/ZIP:
Washington (98199-1299)
Country:
United States
Phone:
+1 206 282 0988
Fax:
+1 206 282 7222
E-Mail:

[email protected]

More about:
Approval / Accreditation / Certified / Oversight by...