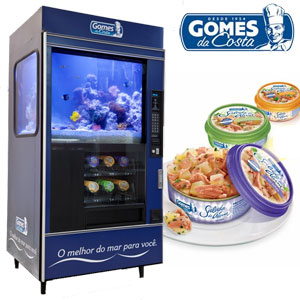 The machine will be installed at strategic locations such as gyms selling Tuna Salad products (Photo: Gomes da Costa/FIS)
Gomes da Costa Launches Innovative Vending Machine With Aquarium

(BRAZIL, 4/30/2011)
Gomes da Costa, a national leader in sales of canned fish, has again introduced another innovation, the only vending machine in the world with an aquarium with fish and salt water corals.

The first non-refrigerated machine was installed earlier this month inside the restaurant Equilibrium, at the Academy of Competition, selling Gomes da Costa's Tuna Salad line (three flavours: carrots, peas and potatoes - mayonnaise, potatoes and olives, and parsley and potato).

The salads come with a fork and have a practical easy-open system thus they can be eaten at work, at home, at the gym, anywhere, both as a meal or as a quick snack
The vending machine, created by JWT, translates the brand concept: "The best of the sea for you" will be taken to strategic locations, such as gymnasiums; the vending machine has been built exclusively for Gomes da Costa. Instead of the cabinet showing the traditional products, the unprecedented machine will have an aquarium.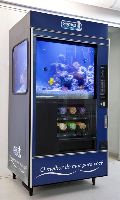 Click here to enlarge

The fish will receive weekly attention by a team that specializes in aquariums. Vending machines are expected to be installed in gymnasiums and other transit points in line with the proposed product, which is joining the health-related implications and practicality.

About Gomes da Costa

Gomes da Costa is a company with over 55 year history of success in Brazil, maintaining its leadership in the production and marketing of preserved fish. As part of the Spanish Grupo Calvo, the company has expanded its product offerings, distribution network, sales abroad and its commitments to society and the environment.

With a plant in Itajai, Brazil, which is now the largest complex of capture, receipt and processing of fish in Latin America, producing more than one million cans daily, Gomes da Costa, generates more than 1,600 direct jobs and plays an important role not only in the vicinity of the factory but also in the city itself.

Source: Gomes da Costa

Margaret E.L.Stacey
Editor Companies and Products
[email protected]
www.seafood.media


Information of the company:
Address:
Rua São Tomé, 86 - 9º andar Edificio Vila Olímpia Corporate
City:
São Paulo
State/ZIP:
São Paulo (04551-080)
Country:
Brazil
Phone:
+55 11 5503 6800
Fax:
+55 11 5503 6804
E-Mail:

[email protected]

More about: