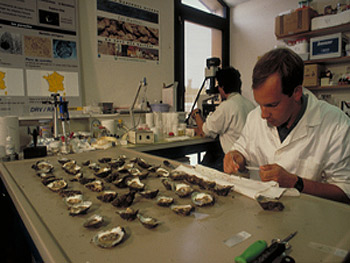 Researchers at lab testing oysters. (Photo: Ifremer/M.Gouillou)
EFSA releases updated data on food-borne viruses in seafood

(EUROPEAN UNION, 7/18/2011)
Food-borne viruses are the second most important cause of food-borne outbreaks in the European Union (EU) after Salmonella. The European Food Safety Authority (EFSA) has published a review of the latest scientific knowledge on these viruses providing advice on possible measures to control and prevent their spread in the EU.
Viruses have been increasingly recognised as important causes of outbreaks of food-borne disease. In 2009, they were responsible for 19 per cent of all outbreaks in the EU causing over 1,000 outbreaks and affecting more than 8,700 citizens.
The total number of outbreaks caused by viruses has been increasing since 2007. Food can act as a vehicle for transmitting certain viruses to humans, which in some cases are highly contagious and may lead to widespread outbreaks.
EFSA's scientific opinion looked at norovirus and hepatitis A viruses in fresh produce, ready-to-eat foods and bivalve molluscs such as oysters, mussels and scallops, as these are ranked as priority hazards by the World Health Organisation (WHO).
The hepatitis E virus was also assessed in the opinion as it is highly prevalent in pigs across Europe, and there is some evidence of transmission through food, although human clinical cases are rare in the EU.
Number of notifications for suspected viral contamination of food products through RASFF from 2000 until March 2010, based on illness reports or virus detection in products. (Graph: EFSA)
According to EFSA's Scientific Panel on Biological Hazards (BIOHAZ), effective measures to control the spread of these viruses should focus on preventing contamination at all levels of production rather than on trying to remove or inactivate these viruses from contaminated food. Thorough cooking is currently the only efficient measure to remove or inactivate norovirus or hepatitis A virus from contaminated bivalve molluscs or fresh produce.
Meat or liver should also be completely cooked to ensure that possible hepatitis E infections are removed or inactivated.
The opinion gives several recommendations for measures to control the spread of these viruses in the EU as well as for further data collection. Recommendations for mitigation measures include introducing microbiological criteria for norovirus in bivalve molluscs, unless the products are labelled "to be cooked before consumption" and further training of food handlers on viral contamination of foods and the environment.
EFSA's scientific advice helps to inform the risk managers and may contribute to risk management measures for the control of food-borne viral infections in the EU.
[email protected]
www.seafood.media
Information of the company:
Address:
Largo N. Palli 5/A
City:
Parma
State/ZIP:
(43121)
Country:
Italy
Phone:
+39 0521 036 111
Fax:
+39 0521 036 110
E-Mail:

[email protected]

More about: