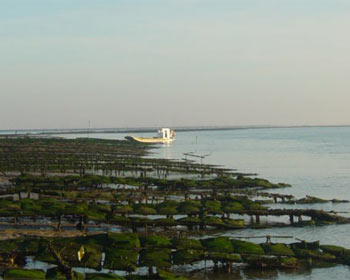 Oyster beds. (Photo: Ifremer Tristan Renault)
EFSA offers recommendations on norovirus contamination management

(EUROPEAN UNION, 1/19/2012)
The European Food Safety Authority's (EFSA) Panel on Biological Hazards (BIOHAZ Panel) decided that the best way to protect consumers from exposure to norovirus in oysters is to produce oysters in areas not contaminated or to prevent contamination of mollusc production areas.

It noted that current methods used to remove norovirus in shellfish do not effectively reduce contamination.

The Panel thus recommends setting limits for the presence of virus in oysters harvested and sold in the European Union (EU). It also advised carrying out an EU-wide baseline survey on norovirus in oysters to offer information on overall consumer exposure and the public health impact of control measures.

Norovirus causes acute gastroenteritis in Europeans, often leading to diarrhoea and vomiting. Bivalve molluscs such as oysters and scallops can accumulate and concentrate virus particles, and contaminated oysters pose a particular risk because they are often consumed raw.

Scientists highlight that norovirus is frequently detected in oysters in Europe even when they comply with existing EU control standards for bivalve molluscs.

EFSA examined the use of the PCR method, which is already applied to other shellfish for the detection and quantification of norovirus in oysters, with the possibility of defining a level at which the presence of the virus in oysters would be unlikely to pose a risk to human health and possible post-harvest control options. The Panel concluded that the PCR method is suitable when appropriate quality assurance measures are applied.

The Panel also determined that methods currently used to remove norovirus in shellfish should be improved. In line with its previous general recommendation for food-borne viruses, it advised that measures to reduce norovirus in oysters should prioritise the prevention of initial contamination of production areas instead of trying to remove the virus from contaminated foods.

The opinion recommends that risk managers consider establishing an acceptable limit for norovirus in oysters meant for harvest and sale on the market in the EU.

Establishing overall microbiological criteria buttresses the setting of acceptable limits and resolves the analytical methods, sampling plans and actions to be implemented if criteria are not met. Such criteria can be used to verify compliance with Hazard Analysis and Critical Control Point (HACCP) principles and could be used as additional controls in production areas and during processing and retail.

By Natalia Real
[email protected]
www.seafood.media
Information of the company:
Address:
Largo N. Palli 5/A
City:
Parma
State/ZIP:
(43121)
Country:
Italy
Phone:
+39 0521 036 111
Fax:
+39 0521 036 110
E-Mail:

[email protected]

More about: